Tunturi Pure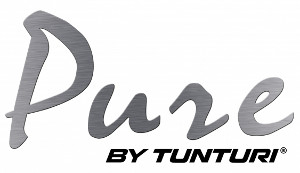 The Pure series has striking round framed corners and a 'boomerang design'. The minimum looks are attractive and subtle at the same time.
The top models have a revolutionary multimedia touchscreen console with WIFI and iPhone dock.
Models with an iConsole monitor can be connected with your tablet or smartphone via Bluetooth.
On the treadmill a stroll, walking, jogging, power walking and running are possible at all levels. These trainers score highly in comparison with other fitness equipment when it comes down to burning calories. Besides improving your general condition, you would be working particularly on strengthening your leg muscles.
The crosstrainer is the most versatile fitness trainer: you will combine a walking motion with toning the upper body. A major advantage is that many muscle groups in the upper and lower body can be exercised at the same time. The natural elliptical motion exercises at every level without putting too much burden on the joints.
Cycling is a pleasant, effective and safe way of improving your condition and exercising your leg muscles. The exercise bike became popular because of its use by the medical sector (physiotherapy) in the rehabilitation of injuries to knees and other joints. Professional athletes like to use the exercise bike for a good warming up session.
Rowing means intensive exercise. It is a training regime that demands everything. Heartbeat and calorie burning quickly rise to the desired levels. All principal muscle groups are exercised, especially those in the back, legs, arms and shoulders. An important reason for selecting a rowing machine, compared to most other fitness equipment, is that it takes up relatively little space and can be easily folded and stored.